SOCI221/2AA – Sociology of Cyberspace
Meeting 3 September 22, 2014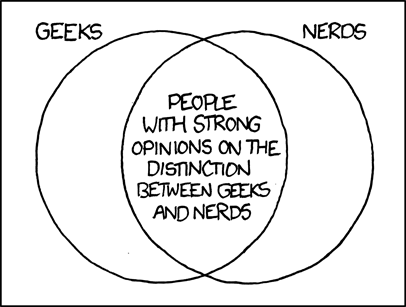 Geeks and Nerds by Randall Munroe CC-BY-NC
Logistics
"Definitive" class list
Two class meetings before Thanksgiving and Midterm

Social Structure (September 29)
Social Dynamics (October 6)

End class with preparation for next
Required texts
Activities
Past Week
Introducing Cyberculture
Required Texts
Silver, David. "Looking Backwards, Looking Forward; Cyberculture Studies 1990–2000." Web Studies: Rewiring Media Studies for the Digital Age. Oxford University Press, 2000. http://rccs.usfca.edu/intro.asp
Turner, Fred. "Where the Counterculture Met the New Economy: The WELL and the Origins of Virtual Community." Technology and Culture 46, no. 3 (2005): 485–512. doi:10.1353/tech.2005.0154. http://lar.me/2zb
Silver
Silver, David. "Looking Backwards, Looking Forward; Cyberculture Studies 1990–2000." Web Studies: Rewiring Media Studies for the Digital Age. Oxford University Press, 2000. http://rccs.usfca.edu/intro.asp
Cyberculture Studies
Cyberspace as hallucination
Frontier mentality
Social groups
Introducing 'Net to journalists
Technophilia and Technophobia

Enthusiasm and anxiety
Geeks and Luddites

Democracy
Distributed intelligence
Hypertext
Turner
Turner, Fred. "Where the Counterculture Met the New Economy: The WELL and the Origins of Virtual Community." Technology and Culture 46, no. 3 (2005): 485–512. doi:10.1353/tech.2005.0154. http://lar.me/2zb
Counterculture/Cyberculture

Further/Furthur 19
By Joe Mabel.
Interior, "Further" / "Furthur", Ken Kesey and the Merry Pranksters' famous bus, Hempfest 2010, Myrtle Edwards Park, Seattle, Washington, 2010, at which time it had recently been restored.
New Communalists
War and Peace
Communes
Utopias
"Community" in strong sense ("disembodied tribe", "transcendent collective"…)
West Coast, European-American, college-educated Baby Boomers
Collaboration and horizontality
Medium and networks
Employment, reputation, expertise
Shift to business
Subversion, recuperation, reappropriation
Crash Course
Sociology in a Few Minutes (or Refresher)
Sociology Bullets
WMDs: Weber, Marx, Durkheim http://lar.me/wmd

Symbolic Interactionism, Conflict Theory, Functionalism
Dialogue, Inequality, Stability

Group, socialization, role, status…
Power, control, conformity, norms, deviance
Culture, subculture, counterculture
Feminism as key
"Who Decides?" as key question
Structure and Agency
Next Week
Social Structure
Online Activity: Geek Test
Take one of the following "geek tests":
Post something about your results or about the test itself.
Required Texts
Ritzer, G., and N. Jurgenson. (2010) "Production, Consumption, Prosumption: The Nature of Capitalism in the Age of the Digital 'Prosumer'." Journal of Consumer Culture 10 (1): 13–36. doi:10.1177/1469540509354673. http://joc.sagepub.com/content/10/1/13.short
Warschauer, M., and T. Matuchniak. (2010) "New Technology and Digital Worlds: Analyzing Evidence of Equity in Access, Use, and Outcomes." Review of Research in Education 34(1): 179–225. doi:10.3102/0091732X09349791. http://rre.sagepub.com/content/34/1/179
Ritzer
Ritzer, G., and N. Jurgenson. (2010) "Production, Consumption, Prosumption: The Nature of Capitalism in the Age of the Digital 'Prosumer'." Journal of Consumer Culture 10 (1): 13–36. doi:10.1177/1469540509354673. http://joc.sagepub.com/content/10/1/13.short
Ritzer
Author of The McDonaldization of Society (1993)
Sociology of production, consumption, and prosumption
Change to postindustrial society
Web as context and hope more than focus
Warschauer
Warschauer, M., and T. Matuchniak. (2010) "New Technology and Digital Worlds: Analyzing Evidence of Equity in Access, Use, and Outcomes." Review of Research in Education 34(1): 179–225. doi:10.3102/0091732X09349791. http://rre.sagepub.com/content/34/1/179
Warschauer
Known for Digital Divide

Representative of studies

Beyond access
Data-heavy

Almost "meta-analysis"
Can skip details

Focus on sections (out of school use, 21st Century Learning Skills…)
Study smart
Collaborative studying